Greetings, my people.
Yesterday I published a post about my last days in Malaysia. As a last remark from that period, I'd like you to go into Google Images and look up "Snorkel Test".

Song of the day: Dirty Rotten Bastards - Green Day (¡Tré!)
Let's close the Malaysian chapter - it's been enough of that, and you don't need any more details. Now comes a new adventure: a life in a French colony, Cambodge, Cambodia, land of Khmer kingdoms and merciless dictatorship.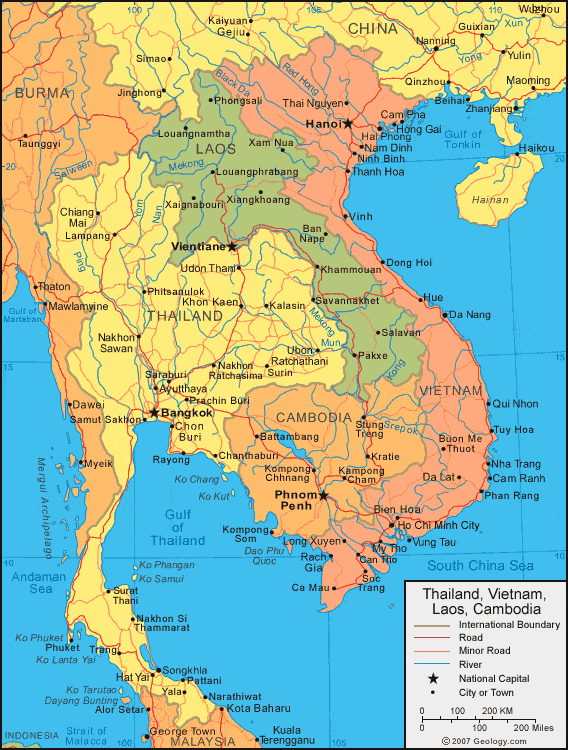 Map of Continental South-East Asia
Concretely, I moved to Banlung, the capital city of Ratanakiri. Its population barely reaches 20,000, so it's more like a village. Not much bigger than my home, Espartinas. But it still is a charming little town. The only buildings of more than two stories all surround the central market, swarming with traders and farmers of ethnic minorities from the surrounding villages. It is also the hub of tourism in the area - mostly young backpackers searching for an experience of the real rural Cambodia, ready to trek and sleep on hammocks in the midst of the jungle. However, there exist several fancier places: a few hotels and several Western-oriented restaurants. We weren't short of places to hang out in the evenings, at least!

Anyways, let's get to the point: my experiences.

Upon my arrival at Phnom Penh airport my future colleagues came to pick me up. As I walked out, a crowd of tuk-tuk drivers assaulted me (as is the norm in these places), but I fended them off. A few steps further I heard a sweet, warm voice calling out my name. There they were: three people that, each on their own way, changed my life and left a mark on my soul. Sorry for the cheesiness, but I feel the need of acknowledging them rightfully. Let's introduce them separately.

On the left, and the tallest of them all, was Chris Howarth. A (ahem) young Brit, firm in both appearance and personality. Some of you know him already as the founder of United World Schools, the NGO I worked for. I have much to say about this organization, but that'll come in a later post. This man of convictions often came with us to the villages and worked hand-to-hand with us, even though he's the ultimate boss. I take pride upon having worked with him and having held my ground through several discussions and arguments I didn't let him win. Chris, if you're reading this... don't take it too seriously, neither the praises nor the criticism! I'll leave that to your biography.

But honestly, he's a great man I have learned much from, and the oldest person (he's sixty) I'd dare to call a friend.

In the middle of the reception committee was Leak, the young woman whose position is defined as "translatress", though her labour is much more than just that. She's from Phnom Penh. Her biography is rather rough and I won't share it here, but her experiences have made her a sensible, sensitive and strong woman. I shed much admiration for her, and I can't wait for the time that I'll go back to Cambodia to see her and, hopefully, finally meet her daughter. Leak, you have been to me the elder sister I've never had. Thank you for everything.


On the right was the person to whom the voice that called me belonged. I won't go into details for several reasons, but I'd like you to know that she is Vera, and that we shared a unique and intense romance.

Already feeling the effects of chemistry, I offered to accompany her to buy the couple things she needed, which allowed me to revisit part of the Cambodian Capital while getting to know who seemed to be a person full of wonders.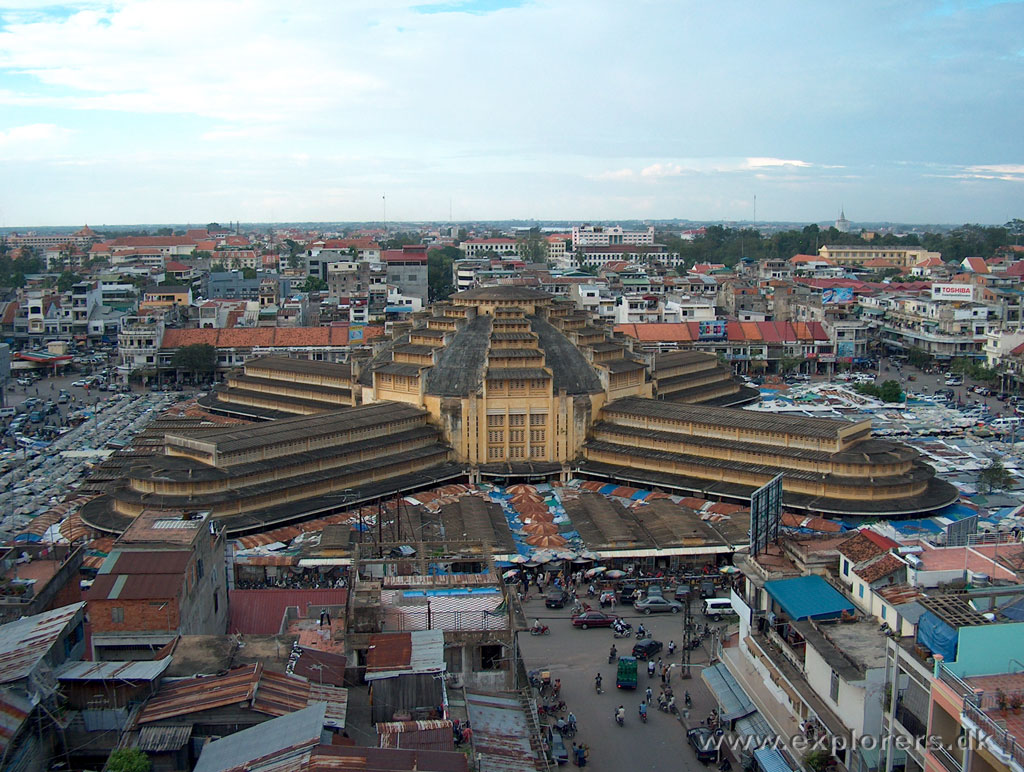 Phnom Penh Central Market
On our way back, and before we got too lost (my orientation sense didn't want to get us to the river), a Khmer young man on a motorbike stopped to ask us something we didn't quite understand - it seemed he was looking for some club, any club. We didn't know what to tell him, so he left... only to stop us a minute later, again. Rather than annoyed we were thrilled, but then he offered to give us a ride seeing that we looked kind of lost. And so, Vera and I jumped on his motorbike and the three of us traversed the city on a tiny scooter. I could only catch glimpses of the conversation, but apparently the man was an architect intending to improve his English skills.

The point of this little anecdote is to introduce the gentleness and hospitality of Cambodian people. I was struck by the randomness of our situation, and by how nice it was!

We stopped by the Blue Pumpkin, one of Phnom Penh's best bakeries and home to the best chocolate fondant cake I've ever tried.
Bought two small cakes:
one for dessert, one for breakfast.


We spent the rest of the evening having dinner and chatting with Chris - an introduction to the life I'd be having for the following two months!